Advocacy Resources
Issue Briefs and Reports
LeadingAge Ohio provides a number of quality resources to help members prepare for meetings with policymakers and local leaders. Check out the resources below.
State budget advocacy issue briefs
LeadingAge Ohio has prepared issue briefs for SFY 22-23 state budget advocacy work. The following documents are available to help inform legislators about the needs of LeadingAge Ohio members.
As the Senate begins its work, the following one-pager of LeadingAge Ohio asks has been prepared.
In addition, a coalition of members working on expanding the Program for All-Inclusive Care for the Elderly (PACE) has prepared the following document to assist with advocacy efforts:
---
Blueprint for an Aging Ohio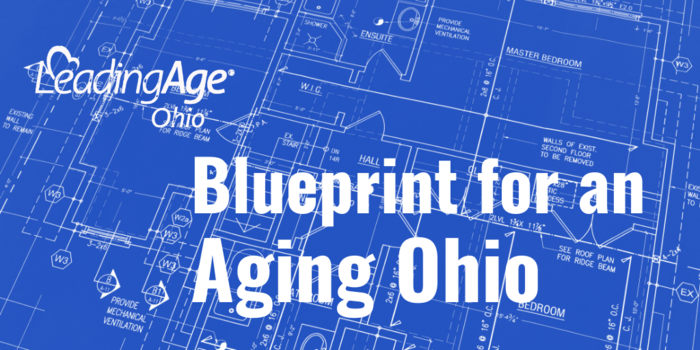 The "Great Resignation" has heavily impacted aging services in Ohio, as heroic efforts to protect the most high risk Ohioans over the last 18 months are now leading to burnout for many healthcare workers.
Data shows
that the aging services workforce and employers are struggling to keep up with aging Ohioans' needs. Meanwhile, Ohio's population of those age 65 and over is rapidly growing.
What if changes could be made to position Ohio to provide cost-effective, all-inclusive care to its older adults? In LeadingAge Ohio's Blueprint for an Aging Ohio, we take a look at how Ohio can start to change the narrative on long-term care. The Blueprint highlights regulatory and administrative barriers that, if changed, would help streamline support and services as well as investments with the potential to boost the aging service.
---
Economic Impact Study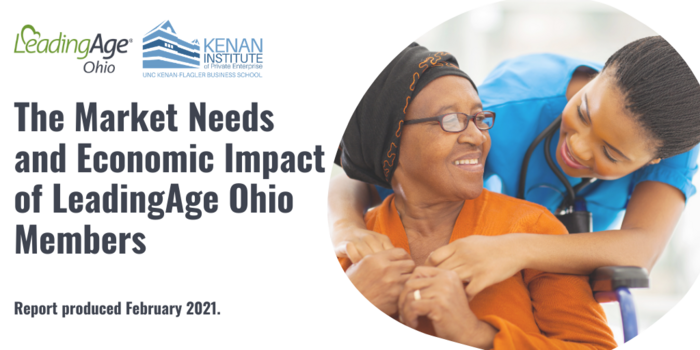 LeadingAge Ohio worked with the Kenan Institute of Private Enterprise at the University of North Carolina Chapel Hill to produce a report that shows the economic impact of LeadingAge Ohio members—as employers and economic drivers in communities across Ohio. It also characterizes the present and future challenges LeadingAge Ohio member organizations will likely face as Ohio's senior population grows. The report provides estimates of present and future need along with guideposts to help navigate the future.
View the Economic Impact Study.
---
Aging 101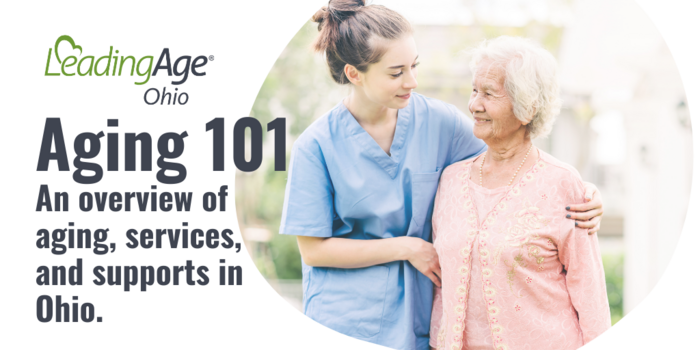 Ohio is home to the seventh largest population of older adults in the country. Aging 101 provides an overview of aging, services, and supports in Ohio. It outlines the current and future state of aging in Ohio; provides information regarding long-term care, post-acute care and additional supports and payment models; and discusses varying careers and workforce solutions within the field.
View Aging 101 - Updated 2023.
---
2016 Workforce Impact Survey
In 2016, LeadingAge Ohio partnered with a group of associations to survey over 500 post-acute care providers on their workforce challenges.
Check out the Workforce Survey Report here.
Advocacy in Action
Advocacy in Action calls are held at 10:00AM on the second Monday of each month and are a no-cost, monthly member benefit. During the calls, members are invited to check in with LeadingAge Ohio advocacy staff and member advocates on the latest policy news from Columbus. You can join these calls by adding this re-occurring invite to your outlook calendar.
Final Budget Advocacy Results
Leading Age Ohio Advocacy Agenda for state's 2022-2023 biennium budget
Advocacy in Action Recordings
May 8: Advocacy in Action Recording
This week, LeadingAge Ohio advocates converged on the Ohio Statehouse to urge their Senators to preserve the House's investments in Ohio's network long-term services and supports, and thank their Representatives for historic levels of funding aimed at bolstering the direct care workforce. On the May 8 call, LeadingAge Ohio president/CEO Susan Wallace and legislative counsel Bridget McAuliffe briefed listeners on legislative issues.
March 27: Advocacy in Action Recording
LeadingAge Ohio policy team held a recap of budget advocacy thus-far, including an overview of amendments being sought to support aging services providers, the status of Ohio's effort to create a low-income housing tax credit, and a recap of the Nursing Home Task Force listening sessions thus far. Also covered was the upcoming Advocacy Day at the Ohio Statehouse.
March 13: Advocacy in Action Recording
LeadingAge Ohio's policy team provided updates on 'hot' advocacy items such as, the status of HB45 funds for nursing facilities, assisted living, hospices, and adult day; an overview of the Nursing Home Quality & Accountability Task Force, including the first listening session last week in Youngstown and discussions at its first full meeting of the Task Force; and finally LeadingAge Ohio's testimony in the House, including the March 8 panel on nursing facility payment and upcoming testimony on HB3, which would create a low-income housing tax credit program at the state level.
February 27: Advocacy in Action Recording
LeadingAge Ohio's policy team shared insights from the week's testimony before the House Finance Subcommittee on Health and Human Services. Testimony covered ODA-administered programs and services, including rate increases for PASSPORT, Assisted Living waiver and boosts to Title III funding and "Healthy Aging" grants that could benefit home- and community-based services, including adult day and home-delivered meals.
February 13: Advocacy in Action Recording
The LeadingAge Ohio advocacy team reviewed additional details regarding a BIG assisted living waiver boost, what to expect for home- and community-based waivers and new investments like PACE and telemonitoring.

October 10: Advocay in Action Recording
LeadingAge Ohio policy staff and Barnes & Thornburg lobbyist, Bridget McAuliffe, will provide a "lame duck crash course" highlighting the likelihood of passage of nursing facility reimbursement reform, PACE expansion and other top policy priorities.
August 9: Advocacy in Action recording
A review of Carolyn's Law, a grassroots advocacy effort to bring higher minimum staffing levels through a constitutional ballot initiative and referendum. Power Point of presentation here.
May 25: Advocacy in Action recording
LeadingAge Director of Medicaid and Home and Community-based Services Brendan Flinn provided an overview of recent federal guidance on how state and local funds awarded through the American Recovery Plan Act (ARPA) can be used to bolster COVID-19 recovery efforts. Power Point of presentation here.

May 10: Advocacy in Action recording
April 15: Advocacy in Action recording
March 22, 2021 Advocacy in Action recording
March 8, 2021 Advocacy in Action recording
February 8, 2021 Advocacy in Action recording
LeadingAge Story Collector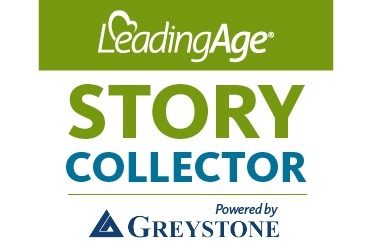 LeadingAge is collecting stories that demonstrate the humanity and direct impact of our shared work. Click the graphic above to submit your story and support LeadingAge advocacy work. 
The Ohio General Assembly
The Ohio General Assembly consists of a 99-member Ohio House and 33-member Ohio Senate. 
Enter your address here to find your Ohio legislative district and lawmakers. 
Testimony
LeadingAge Ohio staff offer testimony on various issues impacting our members and the Ohioans they serve daily. From reimbursement rates for services across the continuum to the impact legislation can have on an individual in the final phase of his/her life, LeadingAge Ohio advocates for each and every Ohioan allowing your voice to be heard.
Members will find copies of testimony within The Source weekly newsletter.
Advocacy
Political Action Committee
Projects & Partnerships
Need Help?
Susan Wallace, MSW, LSW
President / CEO